MacOS Big Sur Version 11.6
Installing a HP LaserJet 1018 to work with a mac book pro running MacOS Big Sur Version 11.6
I recently upgraded to MacOS Big Sur and my HP LaserJet 1018 stopped working. Messages appeared with "fax.backend will damage your computer" and other "XXXX.xxxxx will damage your computer" messages. More about these messages can be found here and here.
After lots of trial and error I was able to get my LaserJet 1018 to print again using Big Sur by following these steps:
Open Apple menu  > System Preferences > Printers & Scanners and reset the print system by right clicking anywhere in the printer list and selecting "Reset printing system…" which will delete all your printers. Caution: this will remove all printers/scanners in the list. I only use the HP LaserJet 1018, so this wasn't a concern but if you have multiple printers you may want to try just deleting the HP LaserJet 1018 to start and follow the rest of these instructions.
In finder, go to your hard drive's ~/Library/Printers/hp folder and move the "hp" folder to the trash then empty the trash.

Download and run the HP Uninstaller to remove all HP drivers:
https://ftp.hp.com/pub/softlib/software12/HP_Quick_Start/osx/Installations/Essentials/HP_Uninstaller.zip
Instructions can be found here.
Download the updated (as of Oct 27, 2021) HPPrinterDrivers5.1.dmg from HP here:
https://ftp.hp.com/pub/softlib/software12/HP_Quick_Start/osx/Applications/ASU/HPPrinterDrivers5.1.dmg
Double click the HPPrinterDrivers5.1.dmg then open the HewlettPackardPrinterDrivers.pkg (if you have issues opening the pkg file, you can try using Pacifist).
Restart the computer.
Connect the HP LasterJet 1018 to the USB port and open Apple menu  > System Preferences > Printers & Scanner, then add the printer using the "+" icon and for the "Use:" click "Select Software…" and type HP 1022 into the search box and select "HP LaserJet 1022, 1.6.1", then click "OK"
The printer should now be added and able to print. Double click the printer to open the print queue and try printing a test page.

Snow Leopard OS X 10.6.4
Installing a HP LaserJet 1018 to work with mac book pro running Snow Leopard OS X 10.6.4
I had a laserjet 1018 from my PC days and wanted to have it work directly with my MacBook Pro. Â Up until now I used the Laserjet 1018 with VMware fusion to print from a virtual PC running windows XP Pro.
I found this forum post which lead me to this post, however this did not work initially. Â Here is the procedure that worked for me to get my HP Laserjet 1018 to work with my mac book pro.
1. Plug the HP Laserjet 1018 into your mac and turn on the LaserJet 1018.
2. Open System Preferences (Apple/Mac Logo in far upper left of screen)
3. Click "Print and Fax" icon. Â You will see of list of printers, click the "+" button to add a new printer.
4. You will see the HP Laserjet 1018 show up in the list. Â Select this printer.

5. From the Print Using: drop down menu, choose "Select Printer Software"

6. In the search box in the upper right of this window, type in 1022
7. Select the "HP Laserject 1022 – Gutenprint v5.2.3 and click OK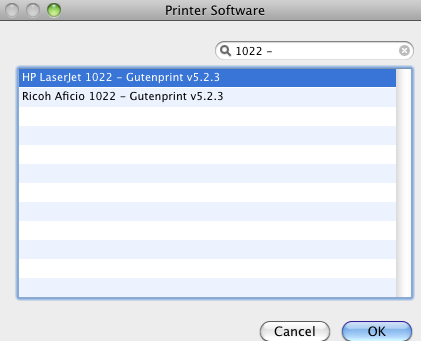 If the printer does not show in the list you can try downloading and installing the latest mac drivers from HP for the LaserJet 1022 here then repeating these instructions and selecting "HP LaserJet 1022, 1.6.1" then clicking OK. The printer should now be installed and working (this was tested with macOS Mojave 10.14.6) and you can disregard the rest of these instructions.
8. Click the Apple/Mac logo in far upper left of the screen, then select "Software Update", and it should automatically check for updates if not, click to check for updates now.
9. You should see an option to now update your HP Printer Software. Â Install this update. Â (if you do not see an update, you can download the drivers here and install them manually.)
10. Open the System Preferences menu again and select "Print and Fax" icon.
11. Click the HP Laserjet 1018 from the list of printers.
12. Â Click the "Options and Supplies" button for the HP Laserjet 1018
13. Click the driver tab then choose Select Printer Software from the Print Using menu.
14. Type 1022 in the search box. Â Select "HP Laserjet 1022, 1.0.3.0.261" from the menu. Â Click OK.
You should now be able to print form the HP Laserjet 1018 from your mac.