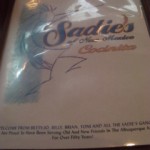 Reading about the infamous Sadie's Salsa in this New York Times article I decided head to Sadie's Dining Room in Albuquerque, New Mexico for some authentic New Mexican Cuisine.  After passing right by the place once, I found it tucked off the street: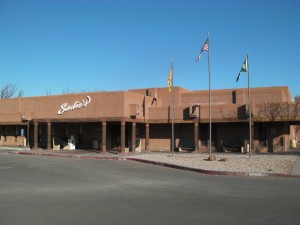 After 50 years of making salsa and mexican food, I had high hopes they'd have it down.  It had a commercial feel to the place, both being big inside and standard looking.
Upon getting seated, there was mention of Posole, Posole you say, the first day on the menu, just here for the holiday season, I had to have some.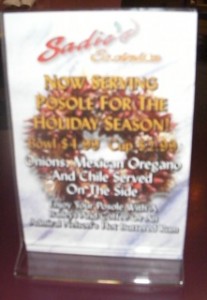 The menu had the standard fare, tacos, enchiladas, burritos, but the Blue Corn Tortillas that came with a side of Sopapillas peaked my taste buds.  The order was in and now it was time to get down to business and try some of the chips and famous Sadie Salsa while I waited for the holiday Posole.
Spicy, yes, but surprisingly I could handle it, I wasn't piling it on the chips, more of a dunk, but good, great flavor and the chips were a perfect match, authentic tortilla chips.  Then out came the posole: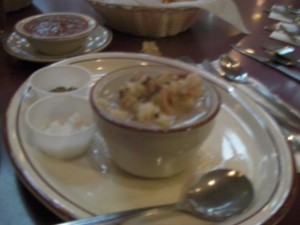 It looked great and after putting in the fresh cut onions and what looked like an oregano based flake mix, it was time to eat, and it hit the spot, great soup, and one of my favorites.  Not too long after the enchiladas, beans and sopapillas came out:
These were good, notice the blue corn tortillas in there, I ordered sides of guacamole and sour cream, this along with a bit of the salsa really hit the spot, I ate the whole thing.  Overall I would stop back at Saides Albuquerque again, but not go out of my way for it.
Info:
Sadie's Dining Room‎
6230 4th St NW
Albuquerque, NM 87107-5703
(505) 345-5339
sadiesofnewmexico.com