Heartland Restaurant in Minneapolis, MN offers an unassuming look from the out side of the strip mall location, but once inside the warm soothing tones immediately whisk all those thoughts away and put you at ease.
A quick look to the right reveals the Heartland Restaurant kitchen with Chef Lenny Russo
With a priced fixed menu flora (vegetarian) or fauna (with meat) you get a three course dinner to choose from.
The menu changes daily to incorporate the fresh ingredients and today the heirloom tomatoes caught my attention along with the Greg summer vegetables.  However the flora menu did not include either so I chose the fauna and added in the cold heirloom tomato bread soup.
As a palette opener a pork sausage nicely accented with cucumbers offered a bit salt to spike the buds.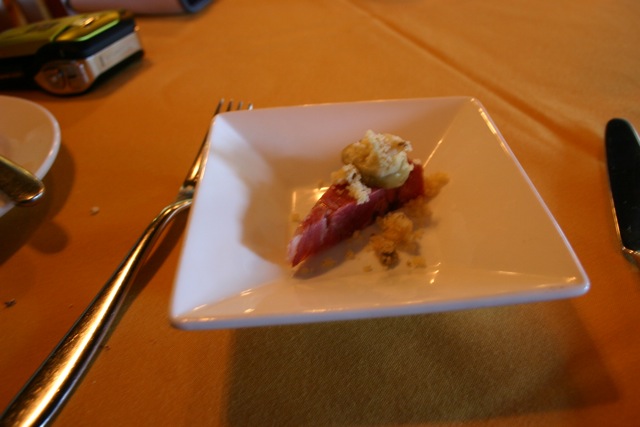 The bread was a caraway seed or pumpkin seed, the caraway rosemary had a nice flavor and pumpkin was dry and earthy whole wheat.
Next the heirloom tomato soup had a great tomato flavor at first I wanted pepper but but by the end I didn't miss it and it allowed for the tomatoes to come through. Plus the bread crumbs brought a fun crunch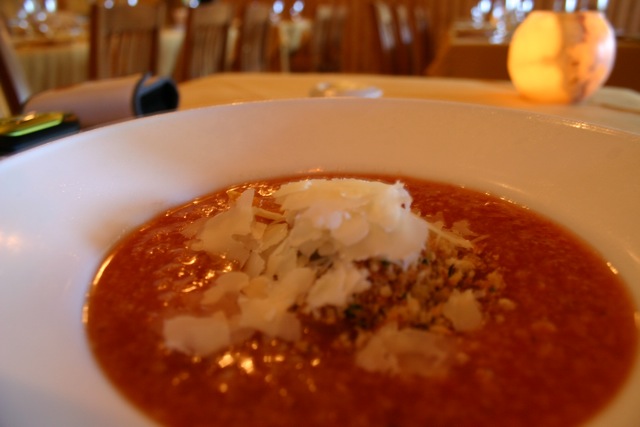 The salad of breaded and fried white fish (crappie) nice crunchy onion? Slices and a great tartar despite a so so fish
The main couse was fantastic the fresh  veggies really added to the amazing mushroom and small pearl onions in a magnifcrnt glaze and sauce light and juice rich but not heavy.  Whole cloves of garlic complemented it well and the carrots and potatoes were amazing. And the homemade bacon added to it nicely
Finished by a light blueberry apple that was perfect.